A Note from our Founder
In 1995 I was 31 years old and two months pregnant and suddenly went completely bli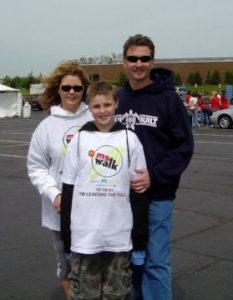 nd.  The doctors really didn't know why (they called it idiopathic) and hoped my sight would return.  Within six weeks my sight gradually returned to normal and I went about my life.  I had a beautiful son, Chris, and my husband, Jim, and I began this exciting journey we call parenthood.
When Chris was two years old I lost my eyesight again and went numb on the left side of my body.  At this time, after many frustrating tests, I was diagnosed with Multiple Sclerosis.  Words cannot describe the depth of sadness for our family.  Let's just say that for a while my life became as numb as my left side.
Those of you who know me know that I truly believe things happen for a reason!  About a month before my "episode" a client of mine asked me to volunteer for Walk MS–by the time the walk was here I had been diagnosed (ironic, huh?!).  Our family has been volunteering for and participating in Walk MS ever since.
In 2007 we came up with the idea to combine a hobby I love with our fundraising and "Crop for a Cause" was created.  Unlike many events, we wanted every single penny to go to charity, so this 100% volunteer group donates all of the proceeds to our events to the National MS Society.  

After the overwhelming success of the 2007 event, we went on to form a team for the Walk (Crop for a Cause).  We have now had up to 140 people on our team.  We have been the #1 team for our site ever since  and have earned a place in the team village each year as well!!

 Due to our enthusiasm and dedication we now run twenty-six different events a year, all raising money for The National MS Society. A few years ago, we took a leap of faith and started our own foundation to allow this group to soar to higher levels!! In 2016 we took our Walk MS team to another level by forming Crop for a Cause teams at 3 Walk locations: Hoffman Estates, St. Charles and the North Shore.
How exciting! This has all reinforced my feeling that together we can do what alone we cannot!!!
I can only imagine the possibilities for the future…
Laura Machonis